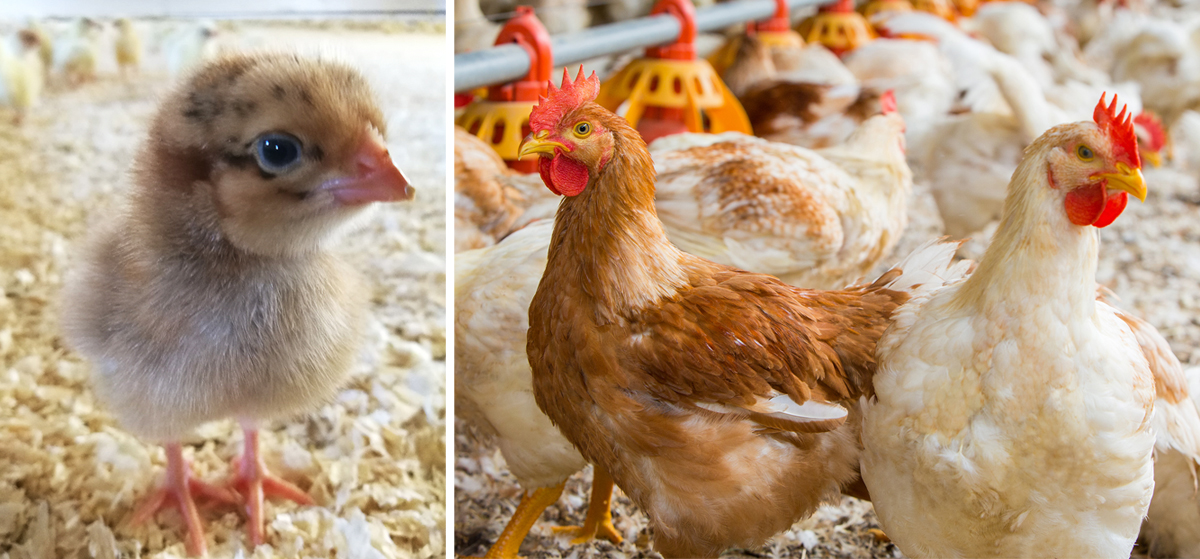 Digitization, traceability, added value and sustainability in chicken production with blockchain technology – this is the title of the now initiated EIP project, which is led by Foodchain by Blockchain AB and part-financed by the Swedish Board of Agriculture.
The project is carried out together with farmers / breeders and Bjärefågel i Torekow AB. Participating is also Svenskt Sigill, which will contribute with, among other things, the connection to the control of animal welfare in the system and RISE, which will investigate the possibility of the system delivering a product-unique climate index in real time, a world-unique solution.
– It is great fun to now be able to start the project, which ultimately aims to launch a commercial platform for Swedish chicken production. The system solves many of the industry's challenges and will add great farmer benefits through simplifications in, among other things, administration and production planning. Also, we get the traceability to pass on to the next level in the chain, and we can finally reach consumers with both "story" and production data, says Cecilia Ryegård, CEO and founder of Foodchain by Blockchain AB.
The project will be ready on 31 March 2023. Following that, a system for full traceability, from mother animals and feed to consumer-packaged chicken, will be in place.
Bjärefågel produces chicken with a focus on animal health and sustainability. The chickens, for example, have almost twice the required space per chicken in their stables, and the birds are growing slowly. Bjärekyckling is also Sweden's only climate-certified chicken. These are added values ​​that are not always easy to communicate to the market and the end consumer.
– We caught onto Foodchain by Blockchain's work and quickly felt that the solution offered could be interesting for us in the future, based on the challenges and bottlenecks our breeders and ourselves face. Therefore, it is great that we have received funding to carry out the project together with Foodchain to develop the system for chicken breeding and production. It is very important and relevant and is at the forefront. We hope that the system leads to simpler handling and administration and also better production planning. We look forward to when we can more easily convey our added value and our way of working to consumers through the data collected, says Sia Andersson, IT and project manager at Bjärefågel.
The project covers approximately SEK 5 million and is part-financed by the Swedish Board of Agriculture's EIP program with SEK 3.7 million. The remaining part is financed by Foodchain by Blockchain.
Svenskt Sigill has been linked to the project, as Bjärefågel are climate certified according to their rules system.
– Among other things, we will be involved in the work of recording and capturing the animal welfare criteria, and to make sure that other criteria for the Svenskt Sigill's certification can be secured with the system. We see this as an extremely interesting and innovative project that can be of great importance for how we as a certification unit can work with our producers in a simpler and more efficient way in the future, says Helena Hultborn, animal care manager, Svenskt Sigill.
Another unique aspect will be added to the project. This in the form of investigating whether a product-unique climate index can be generated in real time through the data collected.
– As far as we know, there are no other initiatives like this right now. The models used today for calculating climate footprints do not have such a high resolution in regards to time and you often have to resort to pre-determined values or models. Digitization and traceability open up the possibility of calculating in greater detail, and there is potential here for climate optimization of production, says Serina Ahlgren, researcher in sustainable consumption and production at RISE.
For contact purposes, pictures and more information:
Cecilia Ryegård
Foodchain by Blockchain
0708-152599
[email protected]