Small-scale producers investing in traceability solutions with blockchain technology!
In August, the value-focusing producers Anna Nyqvist Thorsson and Pontus Thorsson on the farm Stora Bryne outside Järpås were confirmed as new co-owners of Foodchain by Blockchain AB (FCB). The company is developing a software solution for full-scale traceability in food production. – We have followed FCB since the start and strongly believe in how to solve a large part of the food producer's problems and at the same time create added value, in combination with the commercial potential, says Pontus Thorsson.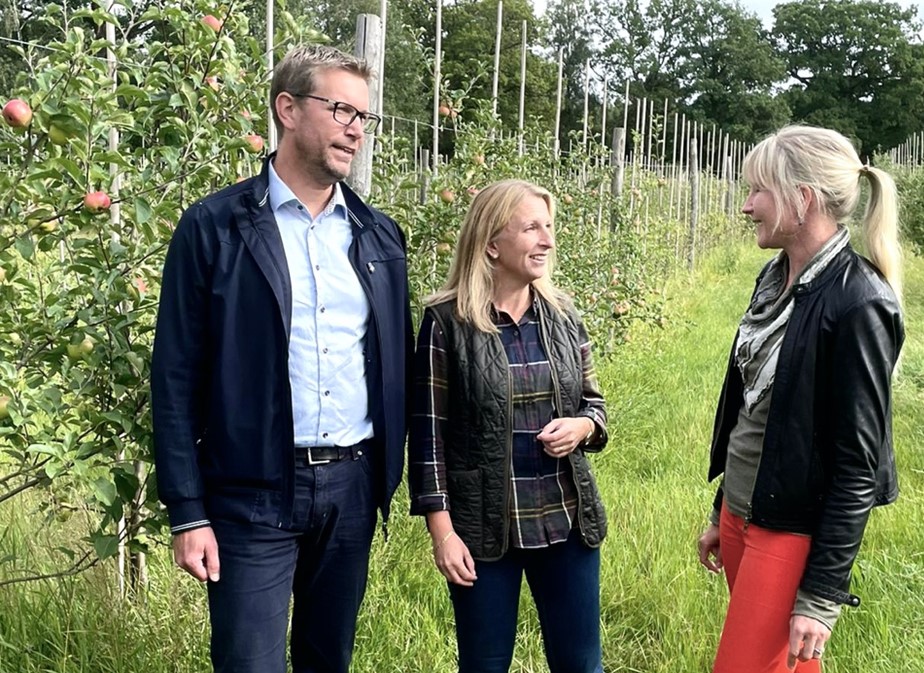 Click here to learn more
Pontus Thorsson and Anna Nyqvist Thorsson in their KRAV-certified apple farm together with FCB's CEO and main owner Cecilia Ryegård.
The Lidköping-based food tech company Foodchain by Blockchain has brought in additional shareholders. For two years, the company has developed a blockchain-based software solution for food producers.
– The food industry needs genuine traceability, it is a question of credibility! This is exactly what FCB's system accomplishes. The system makes it possible for the individual consumer to make conscious, active choices and influence what should be in the food they eat and how it should be produced. At the same time, companies' documentation and reporting to authorities and certification organizations is simplified, and can also enable better requirements in procurement, says Pontus Thorsson.
A first prototype product is already on the market. The company is now working to sign agreements with the first customers, several of which are well-known brands. The capital raised will be used to increase the pace of development, hire new employees, and get products on the market faster.
– When we got the opportunity to join as a partner in FCB, we immediately took the chance! As we ourselves are small-scale food producers, we immediately understood what FCB could mean for producers and end consumers. We encounter the problems that the system solves almost daily. We definitely also see ourselves as future customers and users of the system, says Anna Nyqvist Thorsson.
"We make food talk", summarizes what the company achieves with its blockchain-based software platform, which will be delivered to customers in the raw materials and processing industry. It is about traceability, transparency, sustainability and value building for all actors in the food chain. The software is adapted for a large variety of areas and customers.
– We are very happy that Anna and Pontus have chosen to invest in FCB! Our business model is based on our experience of the food industry's structures and flows. That they, as small-scale food producers at Stora Bryne, see the value in what we do and want to achieve will be a further confirmation that we are on the right track, and something that can further prove our value to other investors, says Cecilia Ryegård, founder and CEO of Foodchain by Blockchain.
On the farm Stora Bryne, 2 hectares of KRAV-certified apples are grown, which are delivered to shops and restaurants and also become must. They also produce their own punch, which is in Systembolaget's range. Pontus Thorsson also runs the gazelle company Akustikverkstan AB and Anna Nyqvist Thorsson has a PhD in archeology.
Foodchain by Blockchain AB is based in Lidköping. The company currently has 4 employees. FCB has an additional partner, Menhammar Stuteri AB, which owns 10 percent. The remaining share is owned by Agrovektor AB, which in turn is owned by Cecilia Ryegård.